Star Wars Reads Day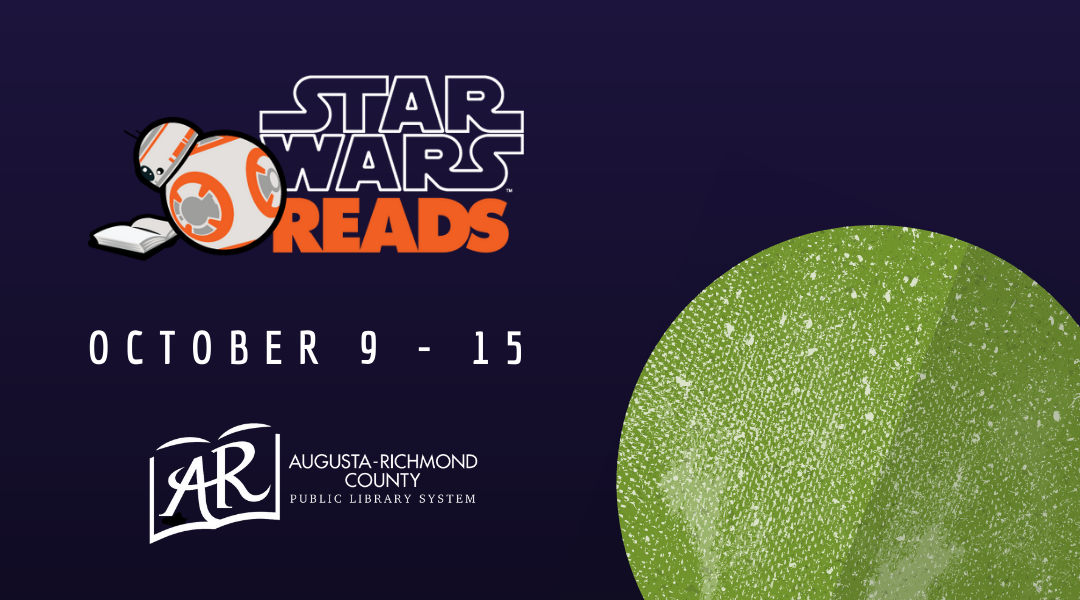 Join our mailing list to get email reminders for Star Wars Reads events!
Star Wars Reads Schedule
Saturday, October 9- Friday, October 15
In Person Events
Saturday, October 9- Friday, October 15
Star Wars Reads Books and More Giveaway
All Augusta-Richmond County Library System locations
Pick up a goodie bag with a Star Wars book, commemorative print, and a take home craft while supplies last during library business hours at any of our six Augusta-Richmond County library branch locations.
Saturday, October 9- Friday, October 15
Artist Alley + Silent Auction
Headquarters Library
823 Telfair St., Augusta
Come by the Headquarters Library to see our Star Wars themed art exhibition/silent auction featuring work by a variety of talented artists from our local universe. The exhibit/silent auction is open during regular business hours.  Bidding is not required to view the art. Proceeds to benefit future Star Wars Reads events. Silent auction ends Friday, October 15 at 5:30 pm.
Virtual Events
Watch all of our virtual events here!
Monday, October 11 | 10 am
Virtual Star Wars Reads Storytime
Facebook and YouTube @ARCPLS
Enjoy a Star Wars-themed story time featuring one of this year's giveaway books and some slightly revised children's songs.
Tuesday, October 12 | 5:30 pm
Star Wars Cosplay
Facebook and YouTube @ARCPLS
So you wanna be a cosplayer? Learn about how others got their start and how to put together a costume.
Wednesday, October 13 | 7 pm
Star Wars: Visions Virtual Movie Night
Register at arcpls.live/visions
Watch and discuss the short film The Duel, part of the Disney+ series Star Wars: Visions. (And tune in to our social media channels on Thursday for an interview with Emma Mieko Candon, author of Ronin: A Visions Novel, which is based on this episode!) Register by emailing prentisse@arcpls.org or signing up on Facebook or Eventbrite. You must have a Disney+ account, a laptop or desktop computer, a Google Chrome or Microsoft Edge web browser, and the free Teleparty browser extension to participate. Don't worry—we'll walk you through it! Star Wars Visions is rated TV-PG.
Thursday, October 14 | 5:30 pm
Inside the Galactic Studio with Emma Mieko Candon, author of Ronin: A Visions Novel
Facebook and YouTube
We know about books turned into movies, but what about movies turned into books? Find out in our conversation with the amazing Emma Mieko Candon, author of Ronin: A Visions Novel, based on the Star Wars: Visions episode The Duel. A question and answer session will follow the interview.
History of Star Wars Reads
In 2012, the Augusta-Richmond County Public Library System hosted its first annual Star Wars Reads Day Literacy Event.  Although 2012 was our first year, George Lucas, creator of the Star Wars franchise, launched the initiative in 2011.  The goal of the initiative was to engage students on the importance of reading by using Star Wars as the spark.  Today, there are hundreds of Star Wars Reads Days that take place around the country throughout the month of October.
In 2012, Dottie Demarest approached Corey Rogers about the possibility of showcasing part of his Star Wars collection as a way to get young readers and researchers interested in the Georgia Room.  She created the Skywalker Family Tree to go along with the display.  They discovered that instead of having to create a new event, they could use existing Star Wars Reads Day and make it a library-wide celebration.
In the first year, much of the planning was done through with the Children's Department and other library staff, including Eileen McCoy, Kenneth Benson, and Aspasia Luster. Roughly 50 patrons attended our first Star Wars Reads Day and enjoyed four planned events:  art activities, Star Wars Trivia, a Star Wars-themed costume contest and a tour of the Georgia Room and the Star Wars collectibles display.
In the years since, the number of events has grown significantly to include Star Wars book giveaways, a live orchestra, green screen photography, reading stations, fan art, a silent auction, an exclusive literacy-themed print, and much more. One of the highlights since 2015 has been the presence of special guests with direct connections to the Star Wars Universe.  In that year, the Library welcomed hometown girl Catherine "Cat" Taber. Cat does several voices for both the Clone Wars and Star Wars Rebels cartoons but is known most for voicing Padme Amidala in the Clone Wars cartoon.  The 2016 guest of honor was Julie Dolan, the voice of Princess Leia on Star Wars Rebels. 2017's featured guest was Nalini Krishan, Jedi Knight Barriss Offee from Star Wars, Episode II: Attack of the Clones movie. 2018 featured bestselling author of the Origami Yoda series, Tom Angleberger. 2019 featured Star Wars: The New Jedi Order author Greg Keyes.